San Diego Bay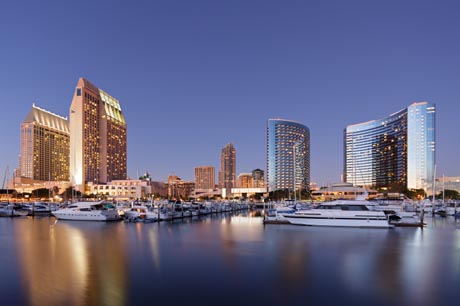 It was 1542 when the first Europeans landed in California near the south end of Point Loma. That landing point is marked by Cabrillo National Monument. Juan Rodriquez Cabrillo and his crew must have been amazed with the beauty of the views across San Diego Bay. This natural harbor, 12 miles long and 3 miles wide at its widest point is one of the most impressive harbors in the US encompassing 22 square miles and 34 miles of scenic waterfront. Today the Bay is a thriving hub of activity, entertainment, recreation, and adventurous vacation wonderland.
Beginning at Point Loma and making its way from Shelter Island, Harbor Island, the cruise ship terminals, the floating collection historic ships at the San Diego Maritime Museum, the USS Midway, the largest aircraft carrier museum and down the Embarcadero, the San Diego Bay is an indeed an impressive place to spend an enjoyable time in San Diego, California. A concrete boardwalk connects the attractions with a growing collection of public art as vacationers and tourist stroll, jog or cycle along the bayside.
San Diego Bay is surrounded naval installations, the urban downtown San Diego area, the San Diego Convention Center, Seaport Village, marinas and first-class hotels. It's all accented by the Coronado Bridge, where tourists are treated to a plethora of recreational sea-going vessels that travel beneath the bridge. All of the amenities are self contained with fine restaurants, boardwalk concessions, lush picnic parks with entertainment and fishing piers and unique shopping. And its all within convenient walking distance of the San Diego Airport, the Gaslamp Quarter, Downtown, Petco Park and the Convention Center.
Besides some of most astounding views in the world and blessed with perfect San Diego Weather, San Diego Bay is bordered by the cities of San Diego CA, Coronado Island, National City, Chula Vista and Imperial Beach which borders Mexico. It is also home the the historic resort, Hotel del Coronado and its beaches. The Bay is simply a collection of everything that makes for a spectacular vacation whether a family on a getaway or a romantic couple on a honeymoon. There is so much to do, see and experience.
San Diego Bay Map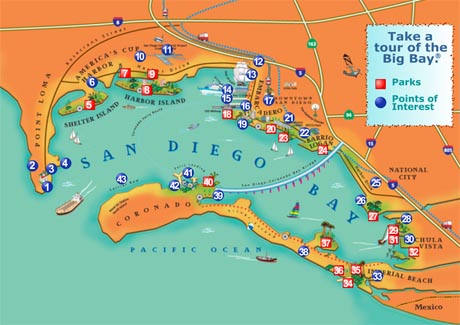 Directional Map To San Diego Bay
View Larger Map
San Diego Bay Video
San Diego Bay Attractions